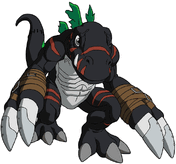 DarkTyrannomon
is a Digimon resembling a black tyrannosaurus rex. He appeared in
Guilmon Comes Alive
.
Role
DarkTyrannomon intercepted Maildramon and fought him. Maildramon was winning until DarkTyrannomon digivolved into MetalTyrannomon and destroyed Maildramon.
Trivia
It is unclear whether DarkTyrannomon is evil or not. He is never shown to do anything evil and saves Calumon from a murderous enemy, however, he could have just been out to fight and absorb more data.
Community content is available under
CC-BY-SA
unless otherwise noted.