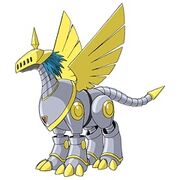 Maildramon is a winged Digimon with a heart on he chest. he appeared in Guilmon Comes Alive.
Role
Maildramon chased Calumon through a digital area between the digital world and Earth, intending to kill him. However, he was intercepted by DarkTyrannomon, who fought her. Maildramon nearly killed DarkTyrannomon, until he digivolved to MetalTyrannomon and killed Maildramon by stomping on her.
Personality
Maildramon is shown to be sadistic as he tries to kill an extremely cute and defenseless Digimon.
Trivia
Maildramon is the first character in Digimon Tamers to die.